Remember how I should go to a museum? Well, friday I mostly spend quality time with friends and made the last arrangements for Dimensions in october (and kind of fixed my sleeping schedule by staying up for 24 hours straight), but yesterday
stalkerbunny
and I went to the History Museum for the first time since they renovated.
(Turns out they weren't quite done renovating, but...)
What does it say about me that literally the first thing I take a photo of is the sign on the door to the ladies' room?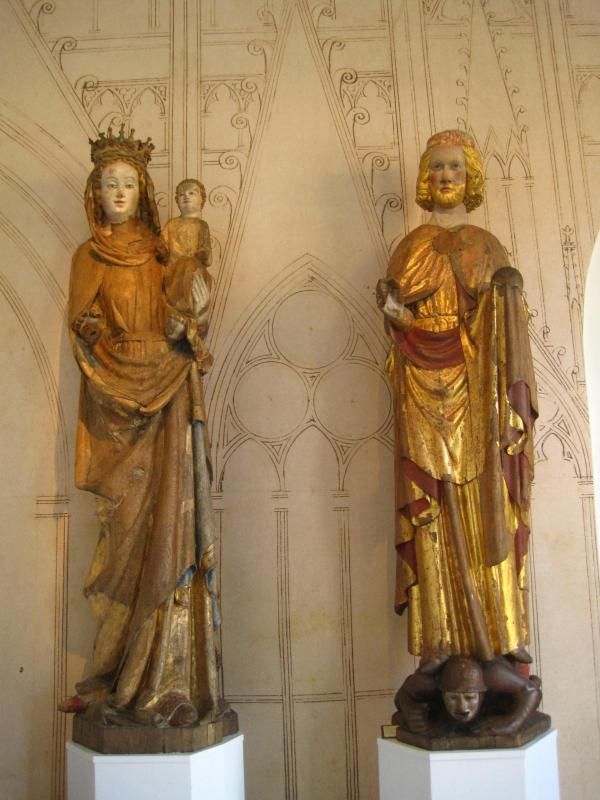 Mary and St. Olaf, if I'm not mistaken. Apparently Sweden has perhaps the largest number of well-preserved wooden statues from the Middle Ages in all of Europe, because of the cold climate combined with the fact that when the country became protestant, the statues were mostly stowed away in the church attics rather than destroyed.
A stone casket with inscriptions in Latin and runes.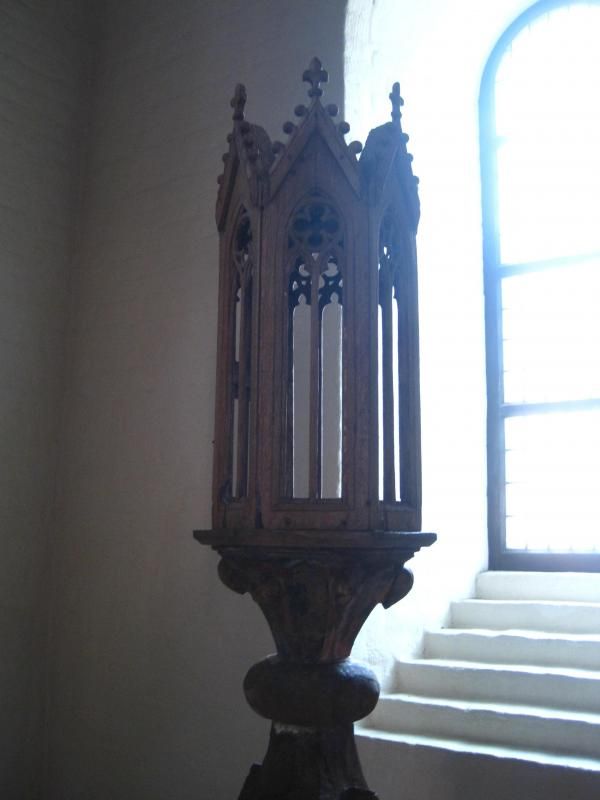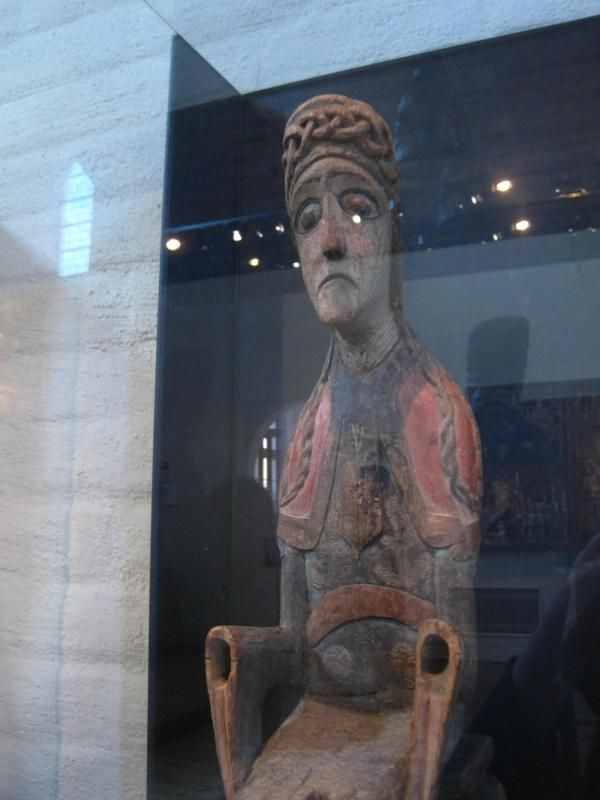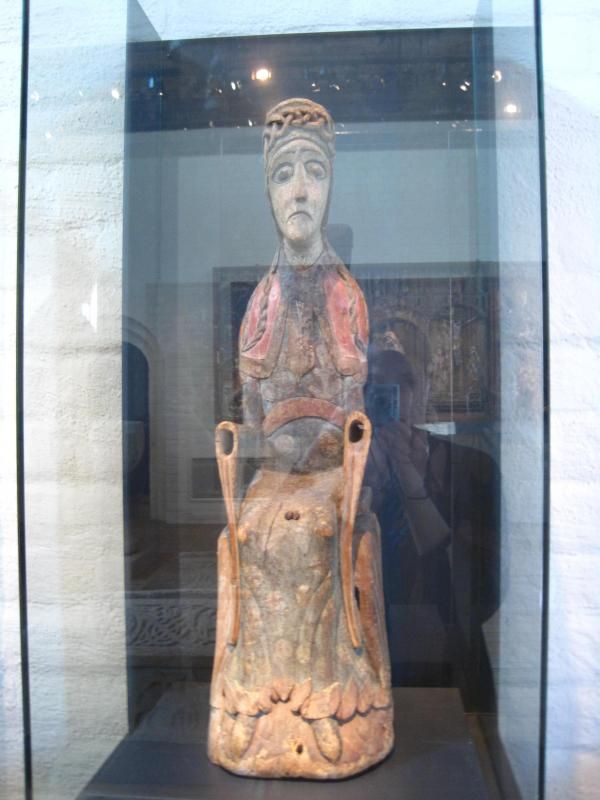 The statue of Mary is from the 12th century, and is probably one of the oldest examples of Christian art made of wood in Sweden. I've always been particularly fond of this one because it's clearly still a very Norse work of art - aesthetically as well as clothes and hair - but with a Christian subject.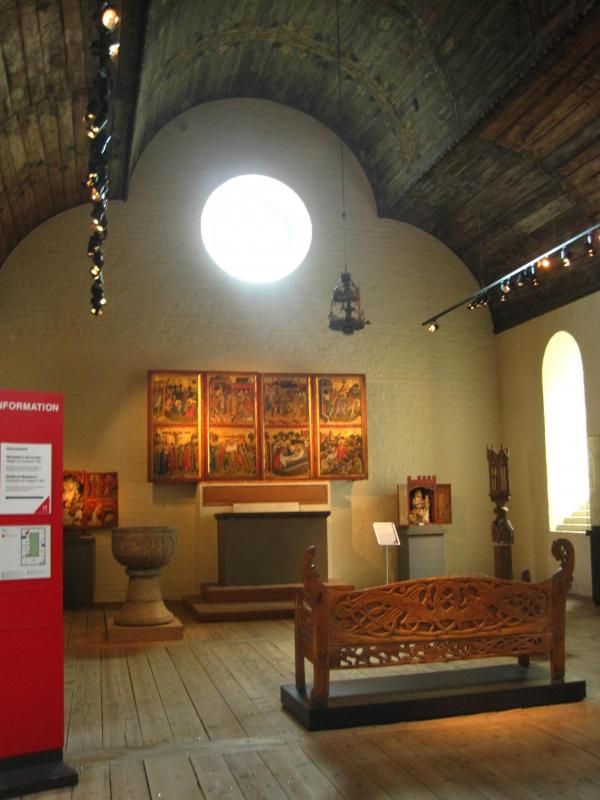 This part of the medieval exhibition (focusing on church art) is probably the most impressive because of its space, and the fact that at some point they installed an entire church ceiling in there.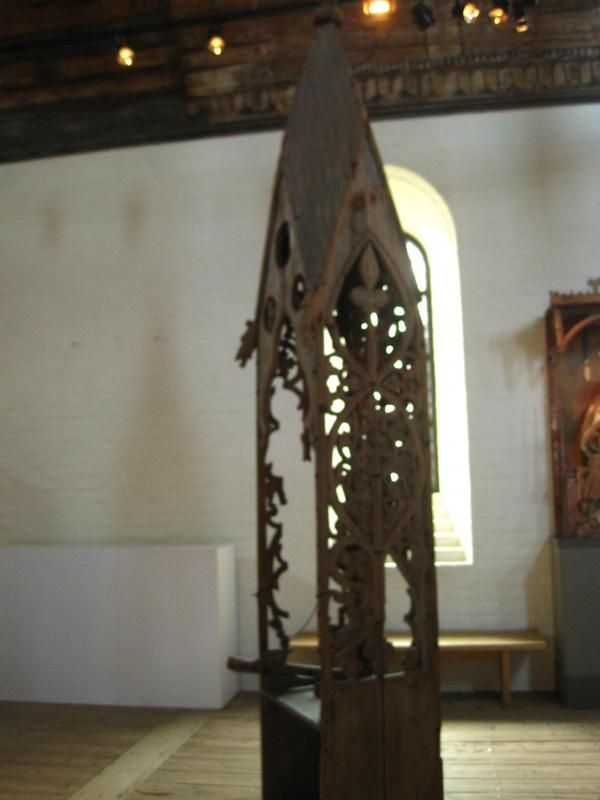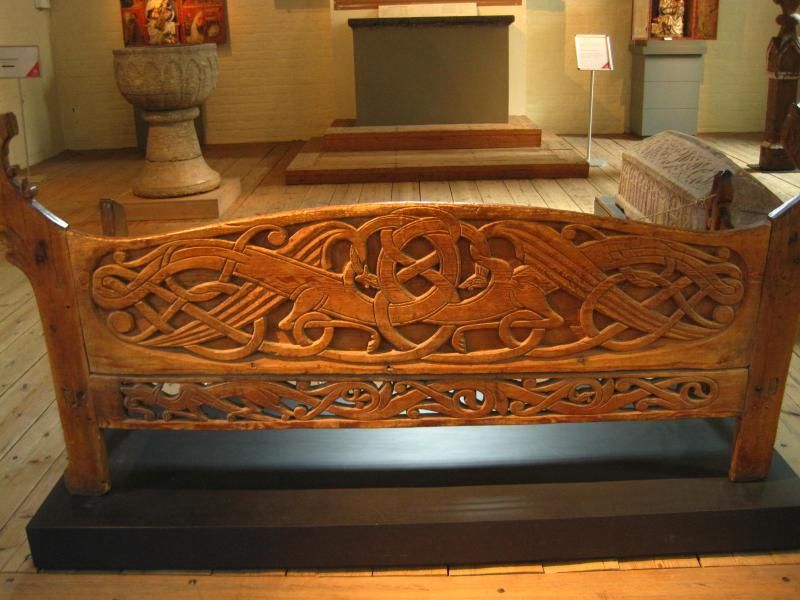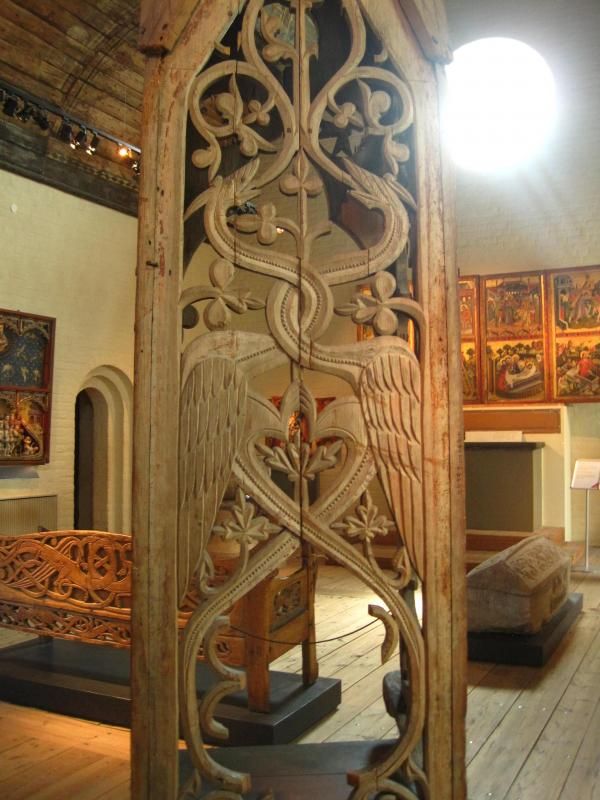 Some more random wooden objects.
Details from a baptismal font in stone, with scenes from the New Testament (the three kings and the Annunciation, with Michael to the left).
Detail from an altar decoration.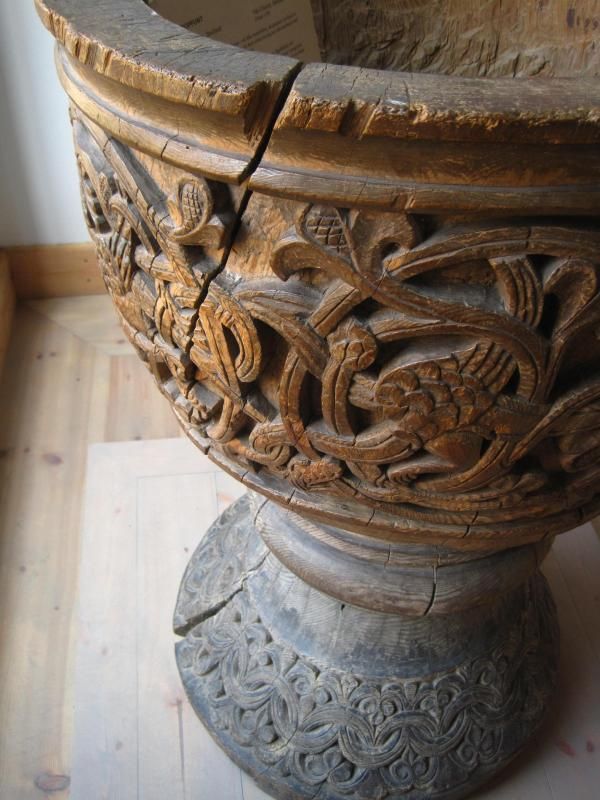 Another baptismal font from around 1200, with imagery from Norse myth. The story of Gunnar in the snakepit, who manages to charm all snakes with his harp bar one, who then bites him to death, was a common motif in early Christian Scandinavia, as Gunnar got to represent the heathen succumbing to Satan's power.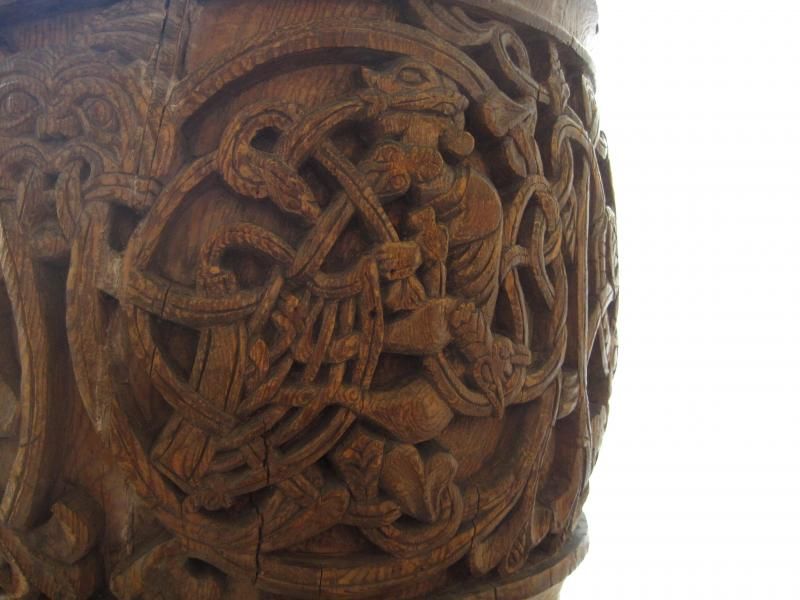 And here's Gunnar, with his harp.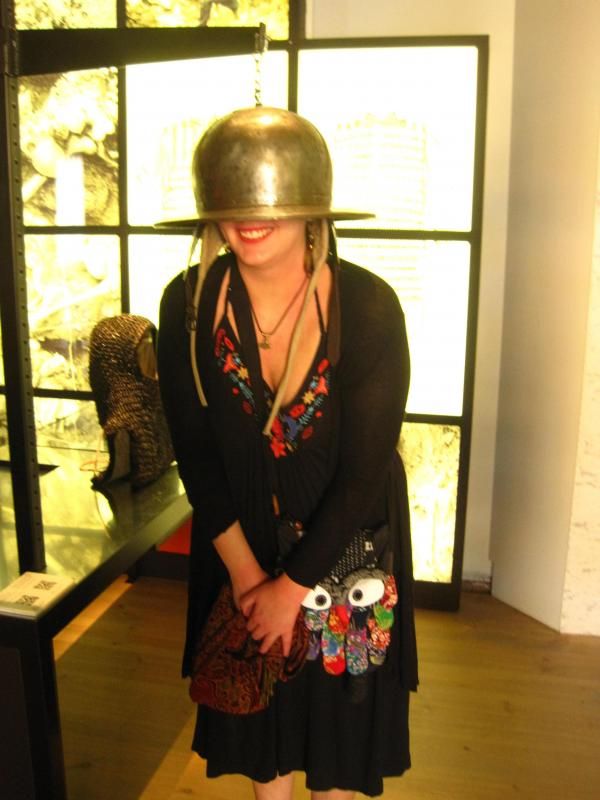 Me! Trying out a 14th century helmet. Part of the reason we went was because of the new exhibition on the
Battle of Visby
. Seeing as it mostly consisted of bones and equipment from a mass grave, it was quite a sombering experience.
Every summer the museum arranges viking-themed activities in the inner courtyard, which includes everything from bread-baking to archery and playing hnefatafl (which we did for the first time yesterday, and it was really fun!). I appreciated how they're clearly marketing towards girls as well as boys.
The inner courtyard (activities obscured by tree).
Some viking finds, including a Buddha statue.
The information plaque for this object says it's a stone casket with explicitly Christian text, but imagery from Norse mythology. Frustratingly, they don't say what the image is supposed to portray, and I have never been able to identify despite my not unimpressive level of nerdery. -__-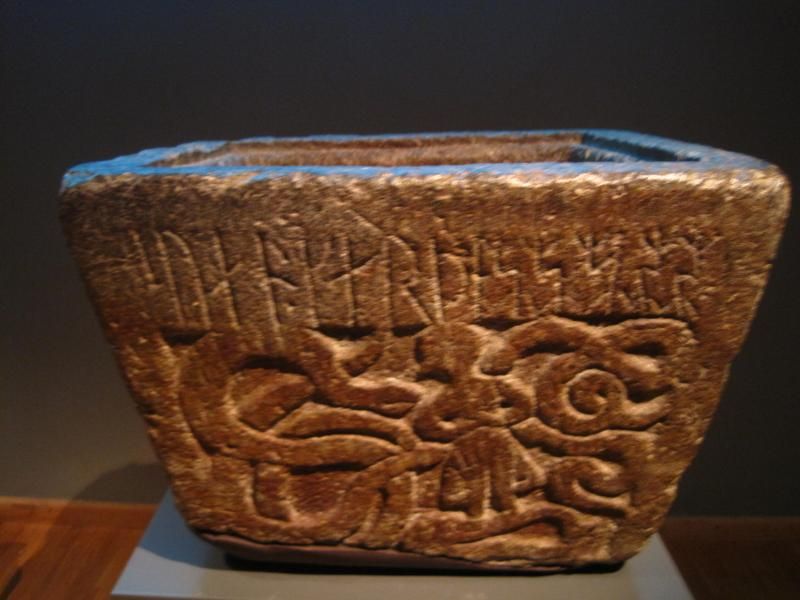 Another baptismal font with Gunnar.
A Gutnish picture stone with heathen imagery.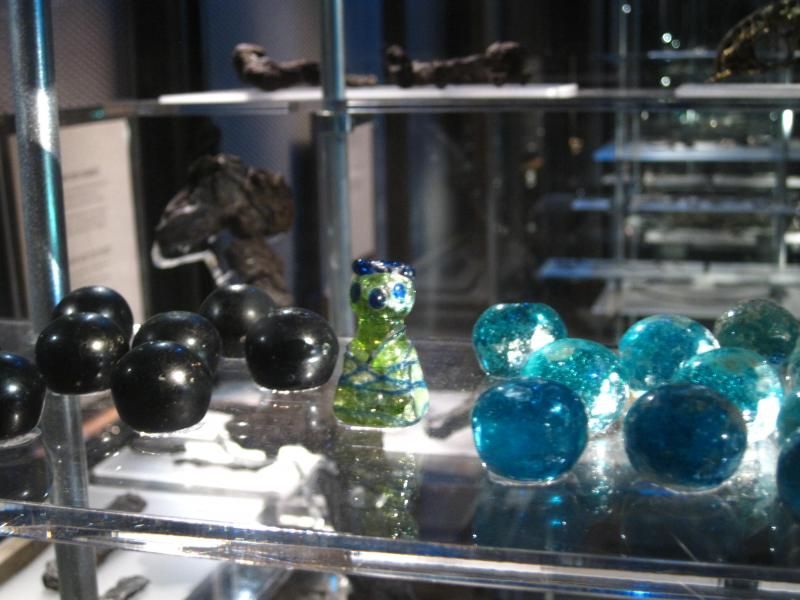 Some well-preserved and beautiful hnefatafl pieces.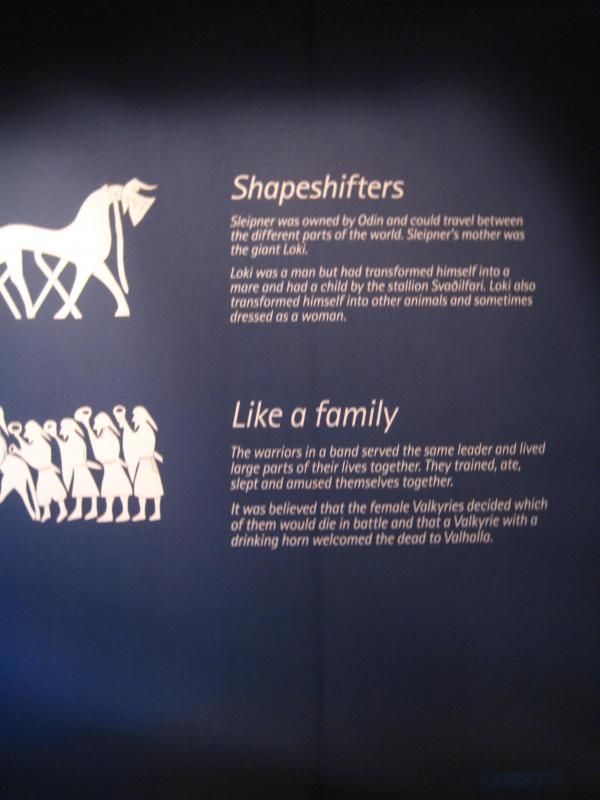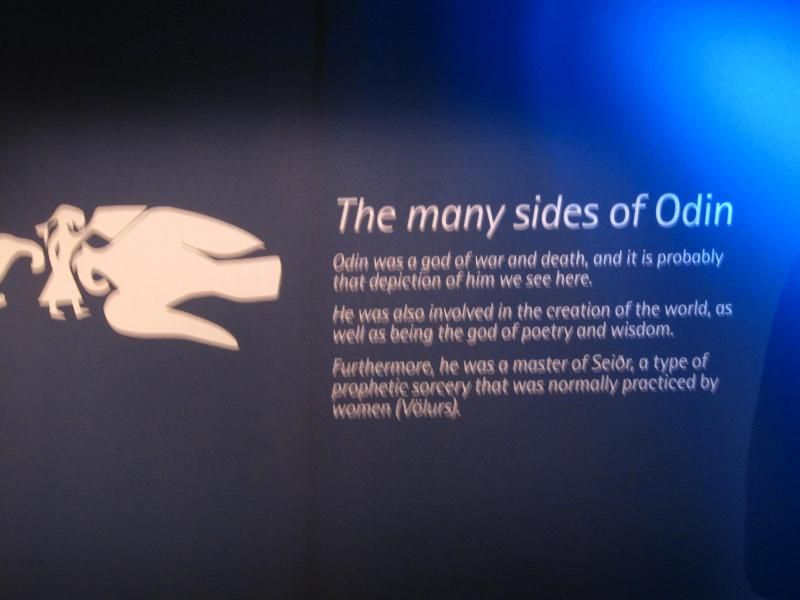 Something I've always appreciated about the History Museum is that they've always been very concerned about making their visitors understand history not as facts, but as a construct and how it can be used. They literally have an entire exhibition dedicated to challenging what we think we know about history and making clear how much of archaeology is based on modern-day assumptions about f. e. gender roles (some examples
here
and
here
).
When I last visited the museum in december I saw these signs for the first time (and since I hadn't been there for a while they're not exactly
brand new
, but whatev)-- while serving as infodumps for aspects of Norse mythology, they're also clearly supposed to provide some queer readings of said mythology as well in the shape of alternate gender roles, which is nice. <3
A finely decorated sword handle-- I was a bit surprised to find that not only swords, but spearheads were often very detailed (to the extent that I'd never noticed the ornaments on the spearheads, despite having been to this museum
lots
of times).
We had ice cream before we finally went home. uwu
This entry was originally posted at http://regndoft.dreamwidth.org/215628.html. Please comment there using OpenID.
First of all: welcome to new friends from the friending meme! I kind of disappeared off the face of the earth of the last two days, as I for the first time in ages actually left the house and spent time with other people.